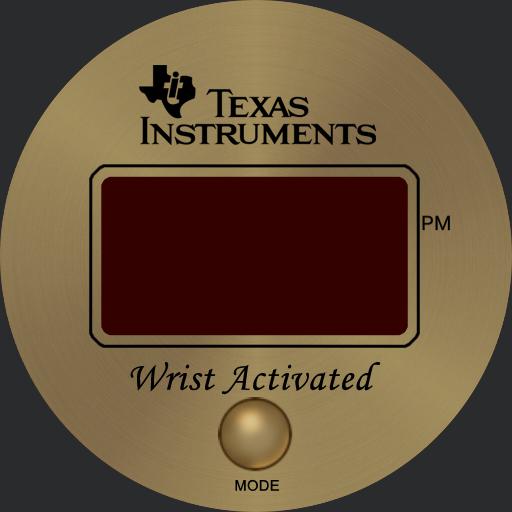 LED watch Gold face v1.71
Creator
Description
Fontless digital - proof of concept
Real 7-segment digital display
No fonts were used in the digital display
Change Log
--------------------
v1.71 - corrected issue where when timing out back to time mode, the colon would come on and start to flash before the time was displayed again. Now time is displayed immediately at timeout instead if up to a second later.
v1.7 - merged original "Wrist Activated" version with the "Always-On" version. Within first 10 seconds after loading, select choice from MODE button. After 10 seconds the choice is locked in.
v1.6 - replaced condensed 7-dot vertical LED element with uncondensed 5-dot element.
v1.5 - Bug fix -wrong graphic was used on first column. corrected graphic.
v1.4 - Reworked LED segment graphics and increase width of background glow.
v1.3 - Changed order of screens, SECONDS screen is note#2 and DATE screen is #3 now.
Bottom dot on colon also lights as a separator on DATE.
Added option to show simulated background circuitry you must edit second layer to "Display Always" if desired
Reworked gold background in Photoshop a bit to tone down the flare at the top.
v1.2 - Changed spacing between first and second digits.
Added PM indicator.
Reduced brightness of button image.
v1.1 - Initial release
Uploaded
30 Jun 2020
Tags
Features